Want the best trampoline? get a MaxAir!
Professional, Gymnastics, and Competition Trampolines.
Incorporate MaxAir's super tramps into your gymnastics facility or trampoline park. Our higher performance commercial trampolines give your athletes the extra edge to take their performance to the next level. For trampoline parks, MaxAir's extreme trampolines increase the excitement with increased bounce heights. And better yet: our string beds are completely repairable unlike web or poly beds!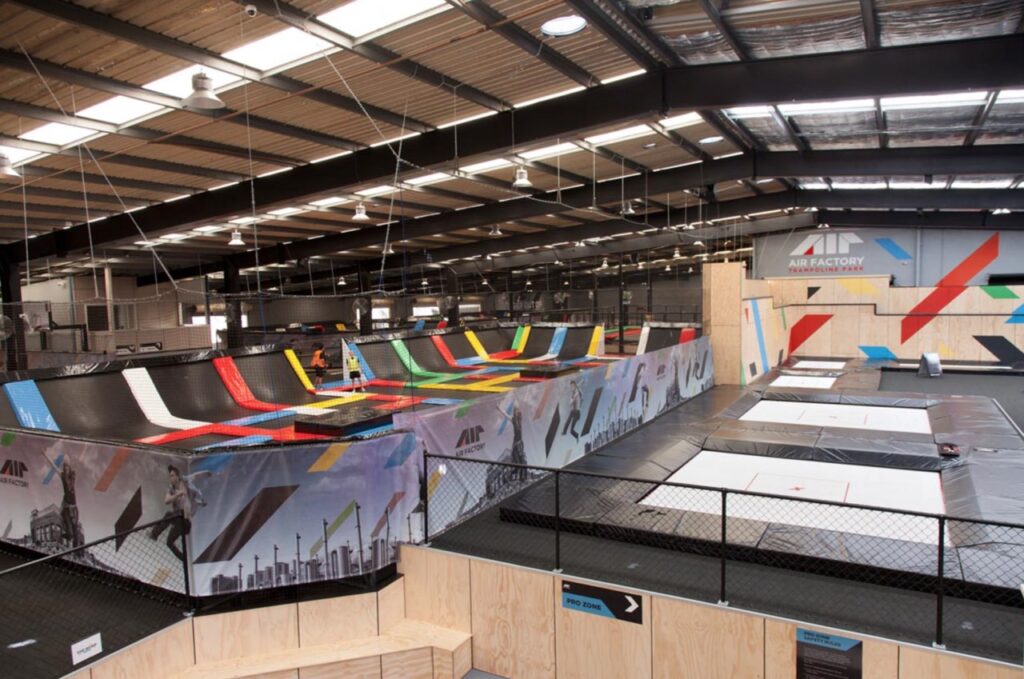 custom designs to fit your needs and space
Our advanced teams of designers and engineers can retrofit any existing area. We can customize designs to fit into spaces you didn't think could be usable. We coordinate with new construction projects, architects, general contractors, and interior designers. Our standards and setups offer unlimited options to get you up and running and flying high.
Our heavy duty springs and hot beds stand up better to extreme use, and our replacement parts, repair kits, and trampoline accessories are readily available to keep you going for decades under proper maintenance.
With your choice of colors plus our ability to print anything, your branding can literally lift off. We can customize any color scheme to fit your gymnastics facility or adventure park brand! If you want an exciting, high-energy look–look no further than MaxAir's commercial trampolines.
Trampoline parks benefit tremendously from having our super trampolines. Attract new customers and set yourself apart from other parks by having an extreme jump zone, catered to those looking for more height and bigger thrills. Many parks have weekly classes based around their extreme jump zones and built up their customer base, driving repeat visits, and adding steady cash flow to their day-to-day revenue.
Extra height leads to more air time. More air means more skills. More skills makes for faster progression.
Softer bounces allow for softer landings. We provide the industry's best pads so you don't have to worry.
Let's face it, kids always want to go higher and higher. Build and grow their confidence without fear.
Pull in a different demographic with our trampolines. Cater to skateboarders, snowboarders, skiers, scooterists and more.
Offer classes for classical gymnasts and trampolinists as well as the exploding extreme sports crowd.
Increase your cash flow with expanded class offerings and increased enrollment. Financing available.
MaxAir's professional trampolines are preferred by extreme sports athletes, gymnasts, divers, and any athlete looking to gain a boost in performance (pun intended).
We build our super tramps for athletes who desire to compete at the highest levels. The increased air time from the superior bounce of a super tramp ensures that professional athletes can advance their skills without having to worry about their equipment holding up or withstanding their force.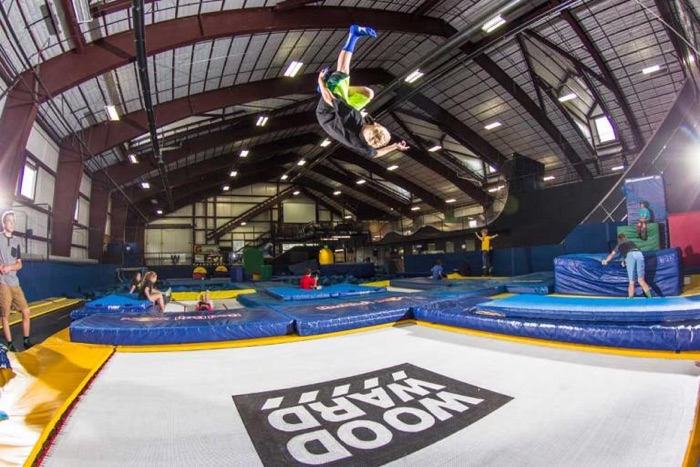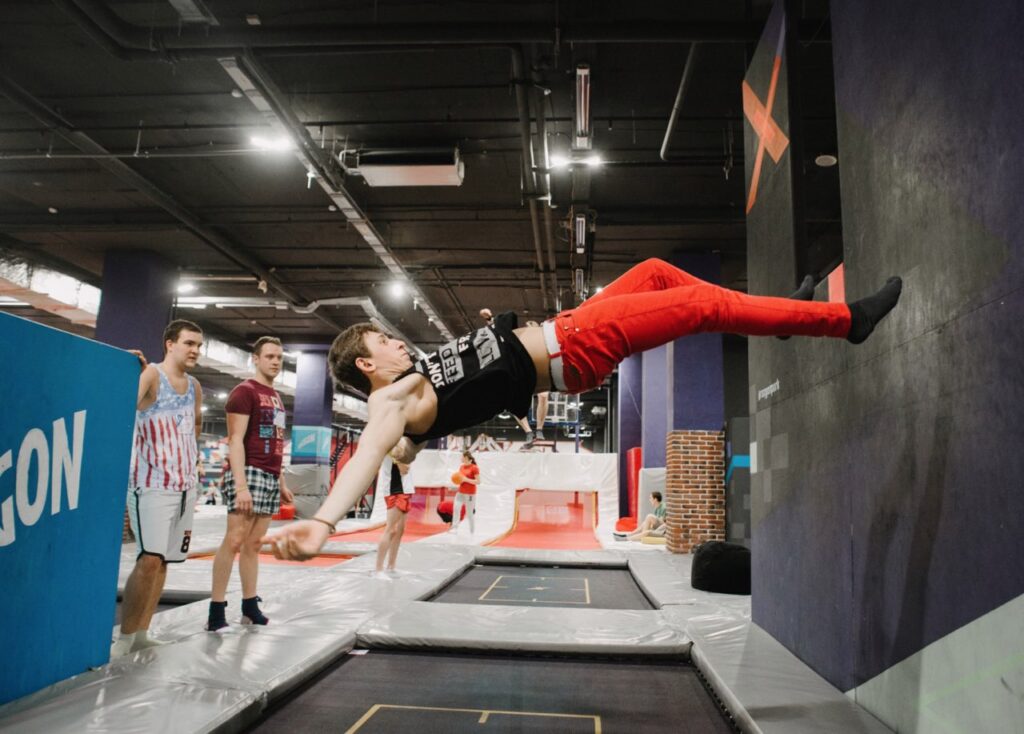 MaxAir's competition tramps are ideal for gymnasts and trampolinists. Upgrading to the increased sizes and larger sweet spot of a MaxAir super tramp ensures athletes can maximize their competitive edge. Host gymnastics events extreme sports competitions at your facility. Your trampoline competition will achieve new levels of high flying and performance.
We are here to help make sure you are installed and jumping soon.
Top pros blown away by Woodward Tahoe in wake of Grand Opening.
Henrik Lampert
Freeskier
My favorite thing about the Bunker (Woodward Tahoe) is definitely the super tramp. It's unreal. It's so much softer than normal fly beds. It absorbs your bounce and you don't have to worry about traveling at all. I always travel and drift away from the center of the tramp and with this one I don't have to worry about it. People are going to dig this thing big time.
Sammy Carlson
Freeskier
Our 14' x 14' trampoline is the best training tool we have at Woodward at Copper for teaching tricks to action sports athletes. The bigger bed is safer for teaching off-axis tricks, and it provides a slower bounce, which better simulates being in the air off a big jump. It's fun for everyone who visits our facility and it doesn't matter if they're learning a seat drop, a 540, or a double cork.
Phoebe Mills
Program Manager / Woodward @ Copper
Max Air Trampolines has provided us here at Rollohalli with their one of a kind 14x14 super quad and 10x20 super trampoline, we have people coming all around the Finland area and from Northern Sweden to our facilities to improve and develop their skills for the snow slopes.
Antero Harjuniemi
Owner / Rollohalli - Finland
I have received our trampoline, and it is installed per the instructions that I received. I had a tramp growing up, but it was nothing like this. The bounce is unbelievable! Thank you for the great customer service, and the fantastic product.
Orion W.
Homeowner
I've always wanted to buy a trampoline for my family but was never able to find something truly well built that also had the safety features I wanted. I did a lot of research on-line and then did some initial calls with a few of my top picks. Max-Air came out first based on their ability to customize to my needs. I wanted to be able to fit a large trampoline inside a barn and use the barn structure as a frame for safety netting. Max-Air delivered! I received an extremely well built unit that was easy to set up. My kids were jumping on it as I hung up the last piece of the netting! Thanks again to Steve and Paul and the whole group at max-Air. You guys did a great job.
David Bensadoun
Homeowner
I decided to get a tramp for my new house in order to improve my air awareness during skiing. The big 'if' was whether my wife would allow me to get one. "Where are you going to put it?" She asked. I searched and searched online and somehow ran into Max Air's website. "No way, they're in Grand Rapids Michigan?" I thought. Paul and Steve came out and measured the space I had and recommended a 14x10 tramp. After I got the quote I called Steve up and asked him to justify the crazy price tag. "Chris it's hard to explain other than that this is the only high end custom tramp on the market. There's a lot of things that go into our tramps, but they are the best." I ended up pulling the trigger and we lined up a landscaper and got it installed. All I could say was "Wow, this thing is amazing". We've had an in ground pool and a hot tub and I will tell you that this is a FAR better investment. My only regret is not planning for this tramp for the beginning of the building process. I would have gone a bit bigger and got even more padding (even though what we have works fine). On top of an amazing product, the Max Air team has awesome customer service. They have built two custom pitch mats for me and have done other things which were above and beyond. I cannot recommend them highly enough! Oh, and I forgot to mention the huge punchline to the experience: My wife LOVES the tramp because it actually looks great in our landscaping!
Chris Sortman
Homeowner
Your trampoline exceeded all expectation and it fitted the bill perfectly... Everyone was very happy with the trampoline and the subsequent fight we put together.
David Fisher
Stunt Performer for the Movie "Pan"