Description
We design our 7 x 14 Fly Bed Trampoline pads to surround your rectangular trampoline for the safest jumping and bounce. Choose from three different options depending upon your needs:
Standard Spring & Frame Padding
Standard trampoline pads are 2″ thick and 28″ wide (5.08cm x 71.12cm) with a total footprint of 18'8″ L x 11.8″ W (568.96 x 355.6cm). We use a firm polyethylene foam that reduces shock from landings off of the trampoline bed. These pads provide good protection for occasional trampoline use. We recommend you only use our spring and frame pad covers on trampolines where small children bounce and athletes trick single flips. For advanced athletes performing multiple-flips and rotations, we recommend deluxe or premium safety padding systems featuring polyurethane foams.
Deluxe Spring & Frame Padding
Deluxe pads are 7″ thick and 48″ wide (17.78cm x 121.92cm) with a total footprint of 22′ L x 15′ W (670.56 x 457.2cm). Comprised of medium-density polyurethane foam.  We design these safety pads for higher performing, high-intensity athletes performing multiple flip routines. They are proven to be safe and effective when compared to FIG and USGA trampoline and tumbling specifications.
Premium Spring & Frame Padding
Premium pads are 9″ thick and 60″ wide (22.86cm x 152.4cm) with a total footprint of 24′ L x 17′ W (731.52 x 518.16cm). Made of medium-density polyurethane foam. These pads are for top-tier athletes who bounce extremely high and perform at the highest skill level. Prepared to comfort the heaviest athletes and the hardest-hitting tricks, including doubles and triples. Premium safety pads are the safest option for all levels of athletic performance. Consider adding our Oversized Pitch Mat for the roughest stunts LIKE. NOTHING. ELSE.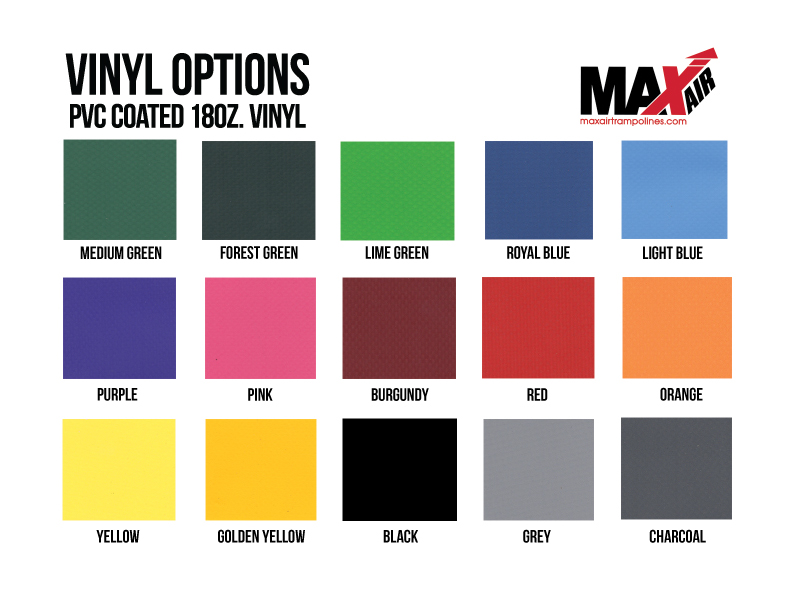 Reach out to us by email, submit a formal quote or call us toll free at 877-4-MAX-AIR to see how you can own the ultimate big air training tool!