Description
Standard Pitch Mat
Competition Standard or Outdoor Standard Models Available
72″ x 48″ x 4″ | 182cm x 122cm x 4cm
18oz Vinyl | 10oz Mesh
Our Competition Standard Pitch Mat is 4" (10cm) thick, measures 72" long (182cm), 48" wide (122cm) and weighs 25lbs (11kg). It is designed to be lightweight, easy to transport, and easy to maneuver on the floor during competition. Each mat is comprised of safety standard medium-density foam wrapped in heavy-duty, easy-clean 18oz vinyl with a 10oz mesh top. Designed specifically for competition use, MaxAir's Standard Pitch Mat can land your fall and help protect you from injury. Safely practice your sport at any level from beginner to Olympian. Each mat is treated with anti-fade U-V coating, stain and tear-resistant, and features no-slip grip handles on the long topside. Be sure to select a Mesh-Colored Top when ordering a Competition Standard.
Our Outdoor Standard Pitch Mat is also 4" (10cm) thick, measures 72" long (182cm), 48" wide (122cm) and weighs 25lbs (11kg). As with our competition model, our outdoor model replaces the mesh top for an all-vinyl cover inset with grommets to allow air to flow during impact. Perfect for every backyard flipper looking to make a splash without want for injury. If you are prone to leaving equipment unattended and outside, our outdoor standard will help weather away the elements and outlast any competition standard with a mesh top. Be sure to select a Vinyl-Colored Top when ordering an Outdoor Standard.
Looking for thicker, larger padded mats? Our deluxe Medium Pitch Mat is for higher-level, non-sanctioned gymnastic stunts and tricks. Or, for our daredevil performers, our premium Oversized Pitch Mats will help you maintain safety for the most brutal inspirations. Don't see an option listed that you would like? Reach out to us by email, submit a formal quote or call us toll free at 877-4-MAX-AIR today to see how we can help keep you safe!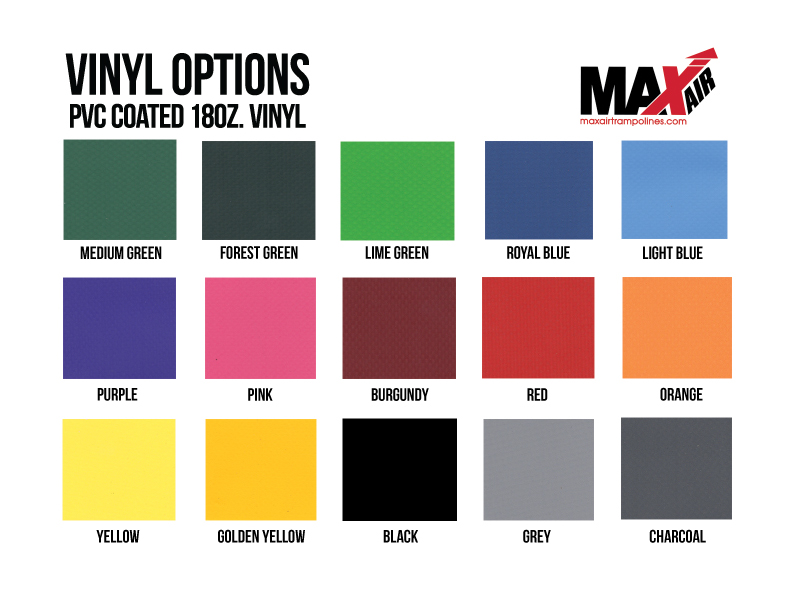 Any order with a custom design will require design service unless you provide the required assets according to our standards. Each custom project includes one (1) hour of design work and/or up to two (2) revisions; further custom design service is billed at $150.00USD per hour. Custom design hours will be billed after 30 days if no approval is received and your order will be closed. Any changes in custom design past the approval date will be billed as a separate item.