Description
Fly Bed Trampoline
Deluxe Above Ground Package Kit
7′ x 14′ Bounce Surface | 16′ x 24′ Deluxe Footprint | 10'9″ Overall Height
1 Two-String Fly Bed – 116 Regular Side Springs – 12 Regular Corner Springs – 1 Above Ground Steel Frame
8 Deluxe Safety Pads – Ladder – Safety Net System
MaxAir's Above Ground 7′ x 14′ Fly Bed Trampoline sits on a premium steel chassis. It is the most powerful Olympic-sized comp tramp available. So good it's disqualified from official competition use at the Olympics. Psst… here's our Olympic-legal trampolines. This is the perfect training tool for elite athletes looking to expand their skillset. Stay safely in form and shape on the familiar trampoline dimension and size found in gyms and at professional events around the world!
Each Above Ground 7′ x 14′ Fly Bed Trampoline Package contains
The MaxAir double-string fly bed is handmade in the USA for 98 square feet of tricking tucks, flips, stalls and rolls. The traditional rectangle super tramp meant for superior gymnasts is calibrated for optimal air-centric movement. Our hand-wove fly bed design outlasts stunts that tear poly beds and a ton cheaper to repair after years of punishment and abuse. Coupled with 118 of our heavy-duty regular springs, you'll snap and slap the sky quicker and higher than the competition!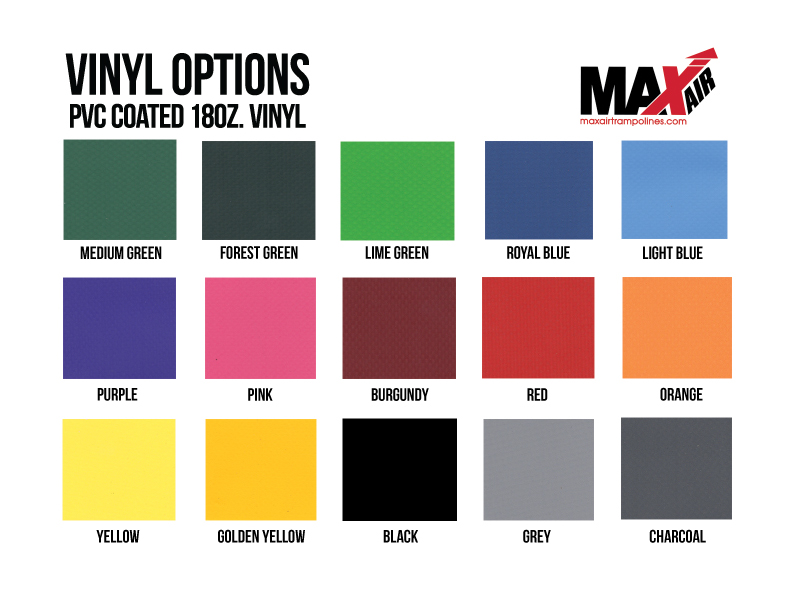 Reach out to us by email, submit a formal quote or call us toll free at 877-4-MAX-AIR to see how you can own the ultimate big air training tool!
Any order with a custom design will require design service unless you provide the required assets according to our standards. Each custom project includes one (1) hour of design work and/or up to two (2) revisions; further custom design service is billed at $150.00USD per hour. Custom design hours will be billed after 30 days if no approval is received and your order will be closed. Any changes in custom design past the approval date will be billed as a separate item.