You love your trampoline and all that sets it apart from all the other gtramps and junktramps out there. Maybe you built it. Maybe you fixed it up and tricked it out. It's a gift or hand-me-down. No matter — It's right for you… BUT maybe you noticed you need more bounce. More air. Sure, a full kit would be nice. But what you need is your very own upgrade kit designed just for your frame.
Why wait? Fill out a Fitment Form HERE for your own 1-OF-A-KIND custom upgrade quote! Take a step toward an experience that's Like. Nothing. Else. Financing  Also Now Available.
New Tricks For An Old Tramp
Do you have an old folding comp tramp or backyard rebounder? Spruce up your trampwall? Fix up your gtramp? Polish your junktramp? No matter who you are or where you are, submit a fitment form and we'll let you know what you need! Maybe all you need is a handfull of springs and a new bed? Pair your imagination with our expertise as we design a
custom
trampoline upgrade for your existing set up. Add graphics, color options, marks and more to any bed. Get the correct sized springs instead of cheap springs that need to be doubled.
TRICK OUT your TRAMPOLINE TODAY!
Or if you prefer a more direct route with our expertise for those
ODD situations
, contact us directly:
From design to installation: MaxAir Trampolines is Like. Nothing. Else.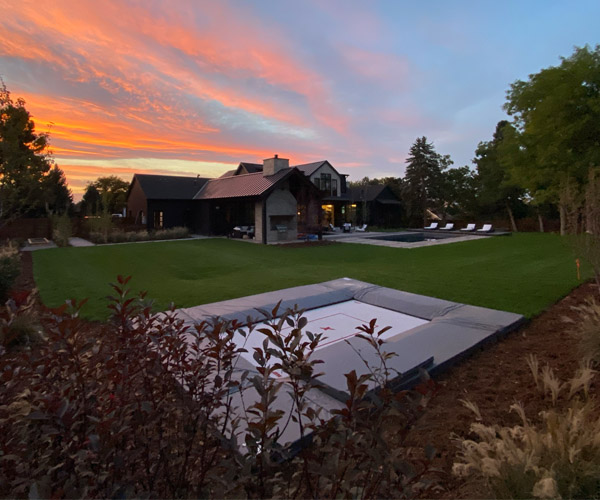 A Truly
Custom

Trampoline
Chris was in the process of building a new home and reached out to us for a custom in-ground trampoline unit.
A tight space was chosen and  MaxAir came up with an internal brace for a retaining wall so the trampoline didn't interfere with the surrounding landscape. Once the overall design and layout was confirmed, MaxAir set up a local landscape architect company to excavate and build the trampoline's pit-set foundation. Once the pit was completed, MaxAir Trampolines' installation team was on site and knocked the complete layout  with ease. Any questions are answered by professional technicians with experience and know-how.
Trampoline bed size 14′ x 10′.
Overall perimeter dimensions 22′ L x 16′ Wide.
Custom deluxe safety pads 7″ thick.
"I decided to get a tramp for my new house in order to improve my air awareness during skiing. The big 'if' was whether my wife would allow me to get one. "Where are you going to put it?" She asked. I searched and searched online and somehow ran into Max Air's website. "No way, they're in Grand Rapids Michigan?" I thought. Paul and Steve came out and measured the space I had and recommended a 14x10 tramp. After I got the quote I called Steve up and asked him to justify the crazy price tag. "Chris it's hard to explain other than that this is the only high end custom tramp on the market. There's a lot of things that go into our tramps, but they are the best." I ended up pulling the trigger and we lined up a landscaper and got it installed. All I could say was "Wow, this thing is amazing". We've had an in ground pool and a hot tub and I will tell you that this is a FAR better investment. My only regret is not planning for this tramp for the beginning of the building process. I would have gone a bit bigger and got even more padding (even though what we have works fine). On top of an amazing product, the Max Air team has awesome customer service. They have built two custom pitch mats for me and have done other things which were above and beyond. I cannot recommend them highly enough! Oh, and I forgot to mention the huge punchline to the experience: My wife LOVES the tramp because it actually looks great in our landscaping!"
Even the widest open spaces have limitations.
That's why MaxAir works with you every step of the way—from hand sketches to floor/outdoor plans and interior design. Once our technicians determine the feasibility of your project, we can create renderings and confirm color patterns before you send the deposit.
Stage 2
Measurements & Initial Sketches
Are you starting to imagine your dream trampoline?
MaxAir Trampolines can transform just about any indoor or outdoor space. Are you looking for a fun family activity center or a serious athletic training trampoline? We can do both. You won't have to step too far outside your comfort zone once a custom MaxAir is installed at your home.
MaxAir custom projects are only limited by your own imagination — and maybe a few walls and ceilings.
Here's a list of previous custom projects to get your creative juices flowing.
In-ground trampoline
Racquetball court conversion
Custom wood decking
Extra long tramps for skinny lawns
Loft trampoline
Sensory tramps (with handlebars)
Sports barn
Trampoline with wall tower
Frequently Asked Questions
What if space is limited?
MaxAir designs custom-tailored trampoline units to fit into your unique space. Our design team has the knowledge and first-hand experience to make your imagination come to life. Especially if space is tight.
Once the trampoline arrives at my house, who will install the trampoline?
You can install the trampoline yourself with custom installation guides provided to you by our design team, or, you may hire a local landscape architect company which the MAXAIR technical team will advise on the installation details and provide "Do It Yourself" videos.
When deciding the location of the trampoline in my yard, what should I be considering?
A leveled area and a shady location are best versus direct sunlight if possible. Make sure there are no obstacles above the area, for example, power lines, and tree limbs. Please refer to our installation guides to make sure you have enough space for an in-ground pit.
Do I need to put a drain in the bottom of my pit?
This depends on the type of soil. Clay and rock type soils that don't drain well, will need to have a drainage system. Sump pumps or running piping to lower grade areas of the lawn will help avoid standing water in your trampoline pit.
How are the trampoline sizes defined?
Our trampolines are defined by the size of the bouncing surface aka the bed. Please be aware the outside perimeter will be larger depending on the safety padding option you select.