Description
Folding Competition Trampoline
7′ x 14′ Bounce Surface | 10′ x 17′ x 3'8″ Unfolded | 11'6″ x 2'8″ x 7'3″ Folded On Rollers
Gao Fei Folding Competition Steel Frame – Lifting Roller Stands – MaxAir Trampolines Fly Bed or 4mm Web Bed
116 Regular Side Springs – 12 Regular Corner Springs – Standard Safety Pads
Practice what you need to in the air with more air time.
MaxAir Trampolines & Gao Fei team up to bring a folding competition trampoline for gymnasts! Bring your routine to maximum level with the same footprint, surface area and padding seen at all FIG and USA Gymnastic events. We take you higher, quicker.
Each 7′ x 14′ Folding Fly Bed Trampoline Package contains
7' x 14′ MaxAir Trampolines Two-String Fly Bed or 4mm Web Bed
7' x 14′ Regular Spring Set
7' x 14′ Above Ground Trampoline Standard Safety Pads
Lifting Roller Stands
Easy setup and storage with portable roller stands. Dimensions when stored on rollers: 138″ x 31.5″ x 86.5″ (351cm x 80cm x 220cm). Dimensions unfolded: 84″ x 168″ x 45″ (214cm x 427cm x 114cm).
Gymnasts can train without worry for attempting back-fulls, every twist you can fit in, and develop a signature routine for the history books! Gtrampers can take this tramp to up events and trick off every bounce. From front tucks to spiderman flips, all stalls and rolls to b-twists and kabooms. Up your performance with practice on the right equipment LIKE. NOTHING. ELSE.
Bounce longer and higher with our stationary above ground or in-ground variants. Available indoor and out.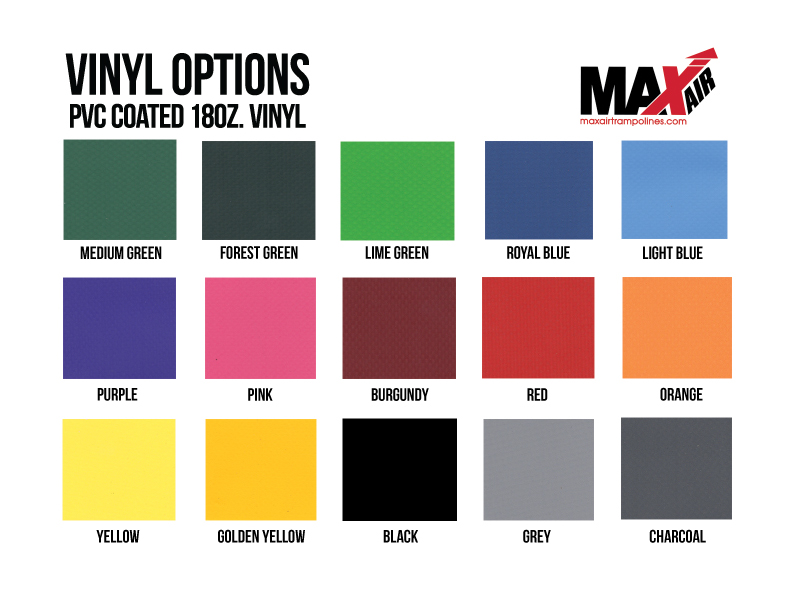 Reach out to us by email, submit a formal quote or call us toll free at 877-4-MAX-AIR to see how you can own the ultimate big air training tool!
Any order with a custom design will require design service unless you provide the required assets according to our standards. Each custom project includes one (1) hour of design work and/or up to two (2) revisions; further custom design service is billed at $150.00USD per hour. Custom design hours will be billed after 30 days if no approval is received and your order will be closed. Any changes in custom design past the approval date will be billed as a separate item.