Description
Super Trampoline
Standard Inground Package Kit
10′ x 20′ Bounce Surface | 14'8″ x 24'8″ Total Footprint
1 Two-String Fly Bed – 120 Super Side Springs – 16 Super Corner Springs – 1 In-Ground Steel Frame – 8 Standard Safety Pads
Installation Instructions | User Guide | Financing
The super tramp redefined trampolines. Featuring self-centering technology on a featherweight Two-String Fly Bed, enough Super Side & Super Corner Springs & our heavy duty Steel Frame protected by Standard Safety Padding. This complete packaged kit comes ready to be assembled & installed in a 15′ x 25′ area with a 200 foot surface area to bounce on!
Our fly beds are 100% multifilament polyester with a superior break strength than machine-made poly or competition web bed trampolines. Fly beds, also known as Aussie beds, String beds or Hot beds, are the strongest, highest quality bed with better action than Olympic trampolines. Our string is solution dyed for more color fastness, won't bleed & is treated with a non-yellowing moisture resistant & weatherproofing process to offer great UV protection so it won't fade or weaken by the sun.
Web & poly beds limit & deter air flowing through a trampoline's bedding. We designed our fly bed to provide maximum height to cater to all athletes performing complex off-axis spins & flips. Our special two-string 1/4-inch weave allows high levels of air to flow through the bed, giving it speed & the snap necessary to make you soar. Handmade on our specialty looms in the USA.
Our Super Springs are high-tensile strength steel & made in the USA. Our corner spring system of 16 corner springs, each measuring 13.65″ (34.6cm), stabilize the athlete when they bounce too close to the corner or sides of the bed. This helps center the bouncer & stops you launching off! The super corner spring is designed for use with our Super Side Springs which measure 11.75″ (29.8cm). Our springs have the most active coils per inch. A helical cone end design tipped with long, round center-placed hooks produces the sturdiest bed & frame attachment. The close wind of each adjacent coil provides the highest deflection with the greatest elastic limit. This creates an incredible stress limit for the heaviest of repeat bounces.  A resilient coating enables each spring to endure harsh environments. You can bounce upwards to 20 feet and more depending upon your skill! Always know your abilities & limitations & bounce responsibly.
Each high-strength steel super trampoline frame is made in the USA. Our wiggle wire design reduces spring friction and lessens spring wear. Our frames are treated with a thick powder coating to hold up to the worst weather, guard against rust & added protection to heavy use. Our super tramp frame consists of 16 sections–10 pieces measuring 46 3/4″ (118.7cm) & 6 sections measuring 52 1/4″ (133.9cm)–for ease of handling & installation. Each design element of our frames contribute to their longevity & help the physics behind our springs & fly beds as much as possible. Currently, our 10 x 20 Steel Frames are Black for the 2022-2023 season.
Our Standard Safety Padding is 2″ (5cm) thick & 28″ (71cm) wide & made of medium-density polyurethane foam.  These are designed for higher performing athletes & those who perform multiple flip routines. These are safe & effective. All of our pads are wrapped in a durable vinyl that won't rip, pull apart, or tear when taut. Made in the USA.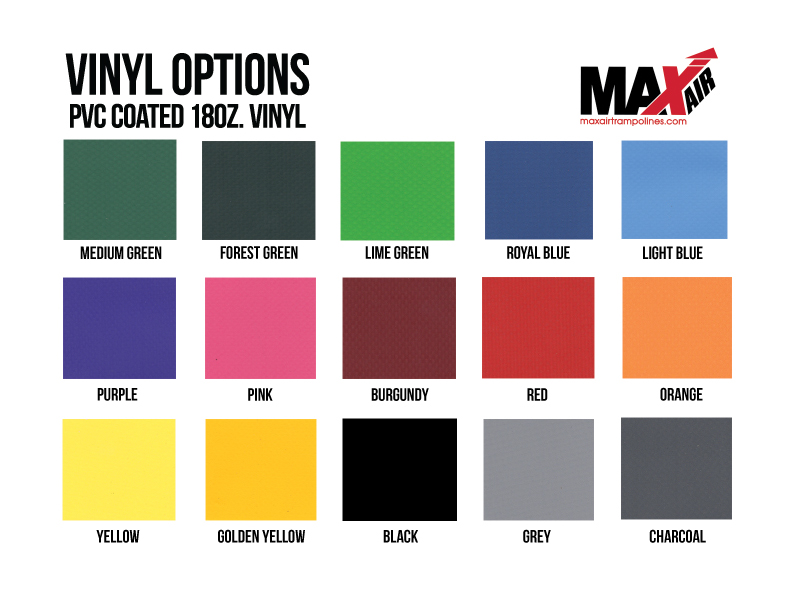 Email, submit a quote or call us toll free at 877-4-MAX-AIR so you can own the ultimate big air training tool!
Any order with a custom design will require design service unless you provide the required assets according to our standards. Each custom project includes one (1) hour of design work and/or up to two (2) revisions; further custom design service is billed at $150.00USD per hour. Custom design hours will be billed after 30 days if no approval is received and your order will be closed. Any changes in custom design past the approval date will be billed as a separate item.